"Fibi" Staggered Wall Display Shelving. Decorative Designer Wall Shelf.
"Fibi" Staggered Display Shelves.

'Fibi' Range of Three Compartment Staggered Display Shelving.
In a Choice of Colour to Suit Your Home.

Consists of Three 'Boxes' in Wonderful Staggered Design,
Changing Size & Depth For Beautiful 3D Displays.
Dimensions Given as a Whole & Per Box Below. 

Solid Construction.
Suitable for Living Room, Kitchen, Hall, Bedroom...
...or Anywhere You Want to Display Something in Style!
These Stylish Shelves Will Help Tidy and Brighten Up Any Home.
With a Choice of Colour Get The One That Suits You.


Dimensions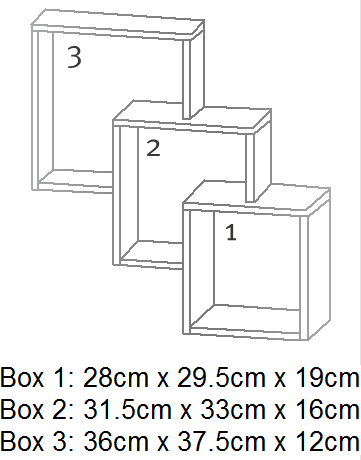 Overall:
Width: 64cm
Height: 65cm
Depth: 19cm