Qmax 'Cologne' 180cm Sliding Door Wardrobe - German Bedroom Furniture. Walnut
Q-max German Made Bedroom Furniture.
"Cologne" Sliding Door Wardrobe, in Walnut Finish.

Fantastic German Made Bedroom  Furniture From Q-max.

This Listing is For The New "Cologne" Range Sliding Door Wardrobe,
in French-Polished Walnut With High Gloss Black Trim.

**Please Note - French Polished Walnut Finish is New For 2017**
Will Not Match With Older Qmax Walnut Finishes Sold Pre-2017.

Cologne Range is Also Available in Concrete or White Finishes.
Search for 'Cologne' to See The Full Range.

Large Concrete Effect Doors with High Gloss White Strip
Detailing, and White Carcass.

180cm Wide Slider, Split Into 2x 90cm Compartments.

Diagram Below Shows Standard Internal Layout,
Additional Shelves/Rails & Internal Drawers 
Can Be Purchased Seperately if Required.

Lights Pictured Not Included,
See Accessories Listing Below for Details.

Self Assembly Required.
Dimensions: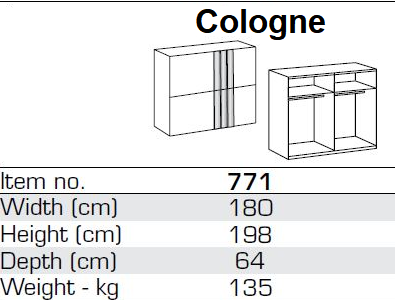 Also Available: